On February 17, 2010 Wesley Hadsell was released from federal maximum security prison (Victorville), having served his last 2 years and 2 months in solitary confinement .

On April 9, 2010 Mr. Hadsell met my children's mother - Jennifer Busby-Hadsell, at a bar. Within 2 weeks he was living with Jennifer and my 3 daughters, aged 7, 9, & 13.

Hadsell's Probation Officer, Tomas Ramirez informed Mr. Hadsell that he must be married in order to cohabitate with a woman. On May 12 they got married.

Mr. Ramirez knew about Hadsell's prison record (over 70 violations), which included multiple assaults, attempted murder, major mental health issues, drug abuse, gang involvement, increasing security placement, and many infractions of moral turpitude.

There were no limitations placed on him regarding my daughters.

Mr. Ramirez did not take a minute to call or write to me and let me know that Hadsell was living with my daughters.

On June 2, 2010 I filed to get full custody of my girls (I had 50/50) in order to protect them from this man the mother barely knew.

On October 24, 2010 my lawyer sent a subpoena to the Probation Officer, Tomas Ramirez, so that he might testify as to Hadsell's criminal record.

On November 1, his office rejected our subpoena. The subpoena and rejection are below.

An outline of his criminal history is below and also HERE.



Below are excerpts from the 2016 sentencing for Possession of Ammunition. The judge gets most of her information from the Probation Officer's Presentence Report. So the Probation Officer knew all of this and allowed this monster to live with my children.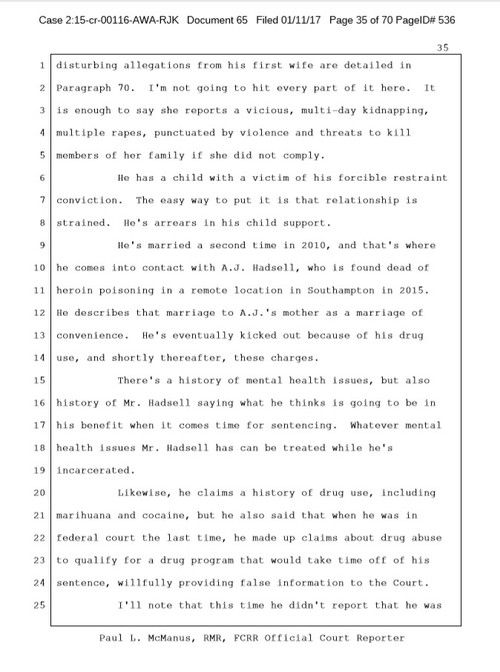 *Note - In some cases (such as Family Court) we still had to use Anjelica's name as "Langer" but she was known widely as ANJELICA HOFFER - in school, at doctors, in sports, etc.. - from age 2 until age 16, when she had it officially changed to Hadsell.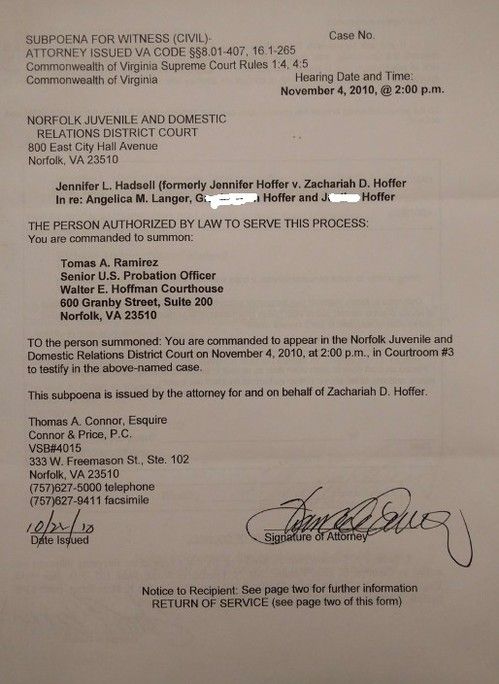 This is a recording of a phone call with Officer Edmunds, Probation Supervisor for Officer Tomas Ramirez. This call was 5.23.18. I have not heard from the office since. I had tried contacting the office numerous times and finally had to leave an agitated message before receiving a call back.