HER LIFE TAKEN BY THE THUG SHE WAS GIVEN TO...
Years of being her daddy - in pictures HERE,

All kinds of documents showing who she was - scroll down...

I raised her under my roof from age 1 1/2 to age 13 (5 years as a single father with 50/50 custody - after fighting with the mom in court). No sign of the bio father.

Anjelica left my home at age 13, tricked into believing I didn't care and didn't matter.

Parental Alienation. Child Abuse.

8 months later, Wesley Hadsell moved in. Anjelica was a vulnerable girl without a fathepresent. Hadsell was a CAREER CRIMINAL including charges of rape, assault, strangulation and kidnapping. He had just gotten out of the penitentiary and knew my daughter's mother for TWO WEEKS when he moved into their home.

I went to Family Court trying to protect my 3 cubs. Judge Joe Massey and guardian ad litem Charles Johnson decided that Hadsell's violent and escalating history didn't matter. Charles Johnson went out of his way to defend Hadsell, lying over and over IN HIS REPORT. These court officials ignored the law of the land and God's law to honor parent's (Ten Commandments) and look after children without fathers (James 1:27).

The Probation Officer knew even more of his Criminal History - and also did nothing, even though I asked him to.

One year after the failed custody attempt, Hadsell went on to adopt Anjelica.

I was erased....

I NEVER STOPPED being her dad, even though the last time she called me daddy was when she was 15...

What was done to her, in removing her father (twice?) and leaving her vulnerable to a monster, and vulnerable to people who like to divide children from parents - was CHILD ABUSE.




This, and so many more like it, prove to ME who her daddy is...




These DIVORCE DOCUMENTS legally establish Zachariah Hoffer as Anjelica Hoffer's father, acknowledged before a judge.

These are public documents, available at the courthouse.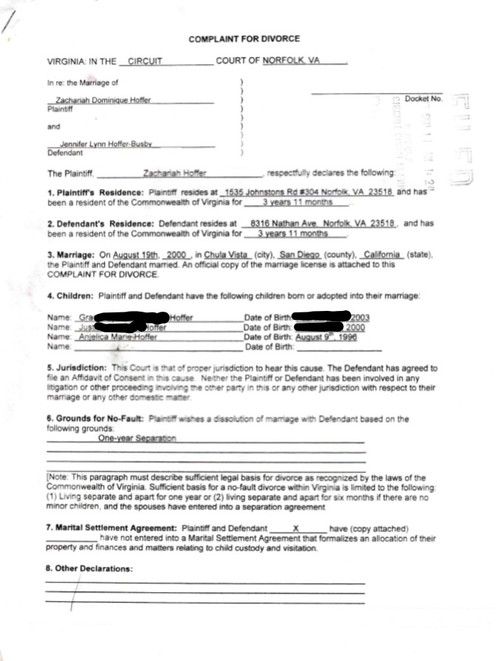 OTHER DOCUMENTS like lease agreements, tax returns, and social services benefits show that she was my daughter.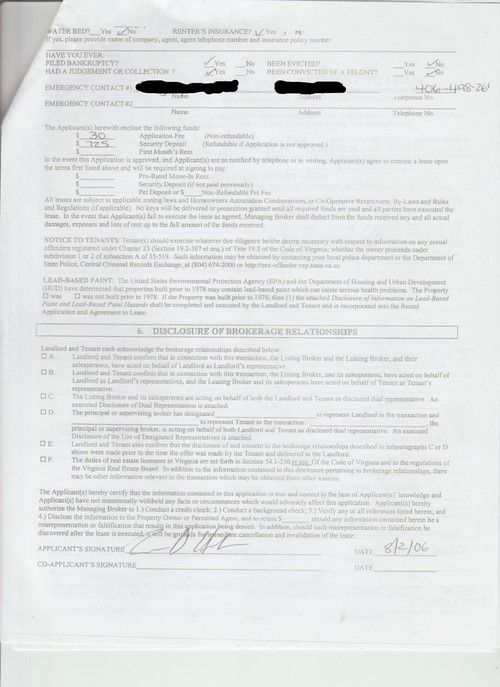 MEDICAL RECORDS after the 2005 separation.



Some SCHOOL work and records over the years, showing her last name as Hoffer (and how TALENTED she was.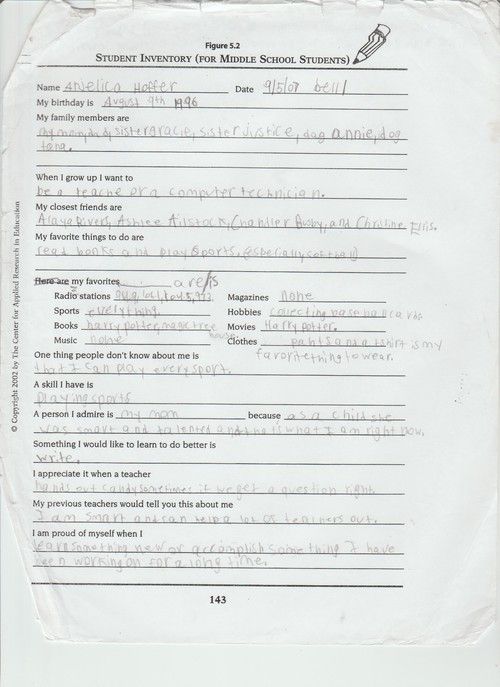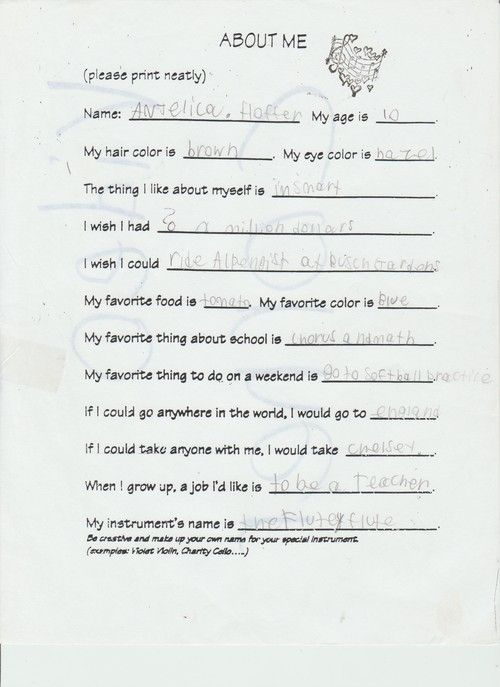 June 19, 2004


This is an EMAIL FROM MEL (Anjelica's bio dad) to the mom - granting me permission to adopt Anjelica.


Jen had been trying to contact him for years, so I could adopt Anjelica. He finally responded in 2004, 7 years after I had been a father to Anjelica. He was in another country. He granted me permission to adopt, but Jennifer never followed through with it.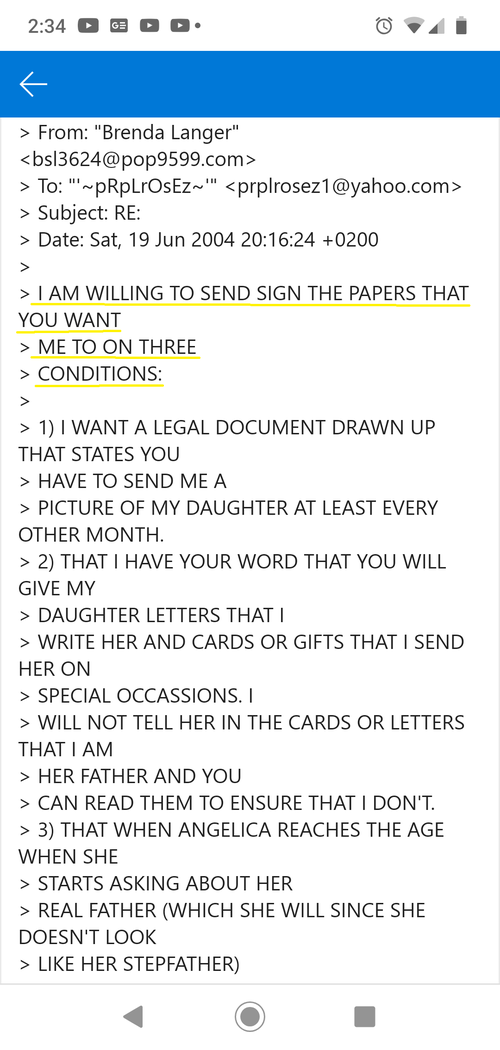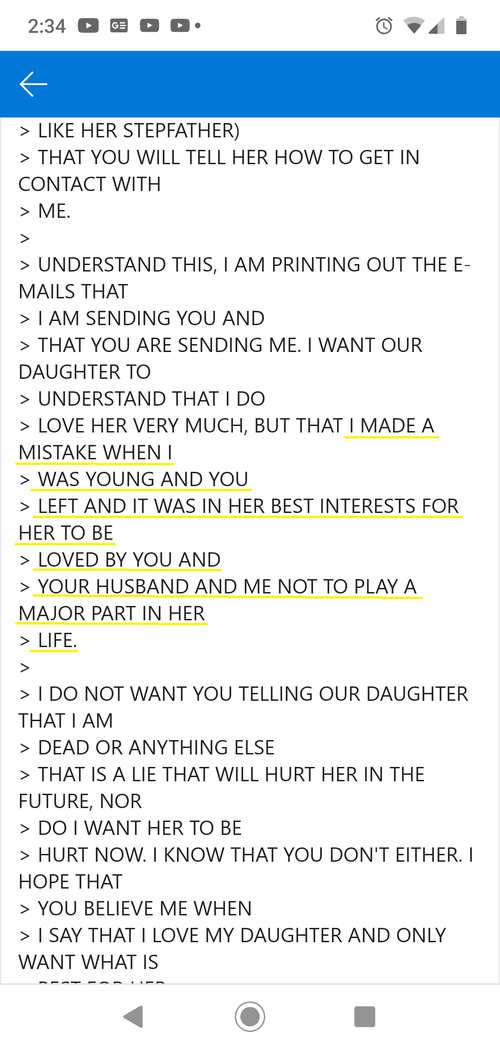 In June 2006, the mom filed for custody of the girls after we had been sharing 50/50 since Feb. 2005. Her reasons were about money.

This is the SEPARATION AGREEMENT and COURT ORDER regarding custody of the children.

The red is her revisions of the agreement that I sent to her. She added some and crossed some she didn't like.

Notice she acknowledges all three girls are OURS and that we should split custody equally.

She crosses out my desire to adopt Anjelica. She never gave REAL reason. All lies.

Apparently it's because she would lose the tax return money and the Child Support case she had against the bio dad - which I never knew about until he told me, after Anjelica's passing.

The custody order ended up being 50/50 parenting time, as shown here.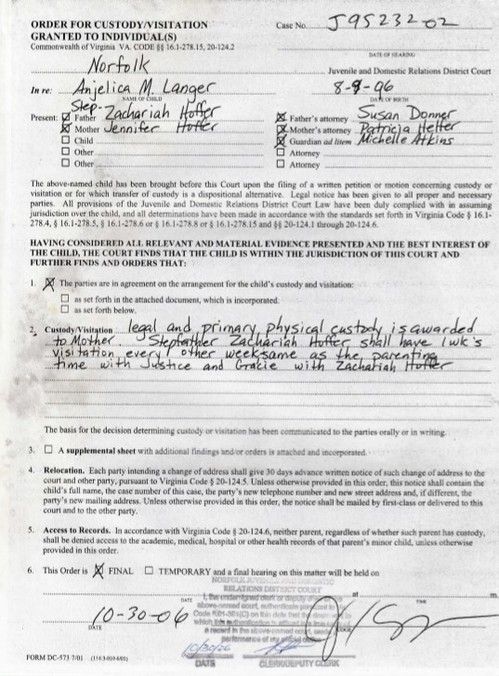 May 28-30, 2010

EMAILS WITH THE MOM about taking Anjelica out of state on her honeymoon with Hadsell and about his criminal history and recent release from prison.

Shortly after this email I called her and told her I had spoken with the victim that said he raped and strangled her (in 2005). Jennifer (my girl's mom) said, "HE IS TEN TIMES THE DAD YOU WILL EVER BE!" That phone call - in May 2010 was time I spoke with Jennifer on the phone.

June 2, 2010

CUSTODY FILING of ALL 3 girls because a guy with a long criminal record, just out of prison moved into their mother's home, along with his 18 year old nephew, and Anjelica had been illegally kept from me for several months. The courts only rewarded her.
June 7, 2010


EMAIL WITH THE MOM, 5 days after I filed for full custody. This man was covered in tattoos, even on his eyelids. I had not researched her previous boyfriends, but I knew something wasn't right about this guy.
Sept. 21, 2010

Portions of the court-appointed GUARDIAN'S REPORT that state I AM HER DAD.

For the full report, Click Here.
Sept. 29, 2010

Family Court - INTERROGATORY sent to the mom.

My lawyer asks Jennifer why Anjelica chooses not to see me. She blames my 'anger'. OK.. Anyone who cares about their children would be angry at the stuff I was dealing with. Besides, I am their dad and the guy she chose as my replacement was beyond angry and into the zone of hurting females and violence in prison and holding up banks, etc...

For the entire Interrogatory, Click Here.
Nov. 4, 2010

COURT ORDER by Judge Massey dismissing my petition for custody of Anjelica and I be granted ZERO time with her.


The current order of 50/50 was still in effect prior to this and the mother had been in violation of that for months.


Calling her my 'step-daughter' is not fair, nor legal. I was her legally "acknowledged" father.

January 9, 2011


The first page of a LETTER TO JUDGE JOE MASSEY, complaining about the poor job the courts did. I wasn't educated about the appeal process. I MIGHT have been more successful in the higher courts. I never received a response to this letter.